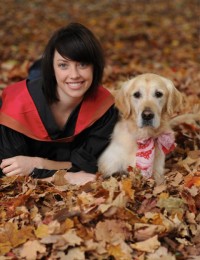 Veterinarian (DVM)
Education: University of Guelph
Hometown: Thunder Bay
Pets: Calum
Dr. Calli Thompson has been a Veterinarian with Northwestern Veterinary Hospital since October 2010. 
Dr. Thompson graduated from OVC at the University of Guelph in 2009. After graduation, Dr. Thompson completed 1 year Small Animal Medicine/surgery internship in South Florida.
Dr. Thompson's areas of interest in veterinary medicine include Emergency/Critical care, surgery and dermatology.
With her spare time, Calli enjoys keeping fit with strength training, running and curling. She also enjoys travelling, but is always looking forward to coming home to her Golden Retriever Calum.