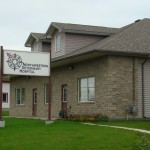 Northwestern Veterinary Hospital is at 1160 Oliver Road, Thunder Bay, Ontario. We are situated halfway between Golf Links Road and the Thunder Bay Expressway on the north side of the street (just down from Tim Horton's). Our main entrance is located at the "back" of the building, where client parking is available.
Phone
(807) 345-3353
Fax
(807) 344-8210
Email
Questions, concerns, price inquiries etc. should always be directed over the phone as we can provide an immediate response.
Please be aware that emails received may not be responded to for up to 4 office days.